Fields in the Rhymney Valley
I groaned inwardly yesterday morning when I heard a Radio 4 presenter refer to rugby as
Wales
' national religion.
Wales
so rarely gets a mention on UK radio that it was novel to find my countrymen the centre of attention for several minutes. It was strangely unsettling, however, to have our national psyche analysed in such a public way and to learn that Welshness hinges on an obsession with an oval ball and the fifteen muscle-bound men who fight over it.
Alas, we lost the semi-final to
France
so the Welsh squad is on its way home and this little country of three million people and several times more sheep will once again be forgotten as the spotlight turns back to
England
.
Okay, the Welsh team might not be playing in the Rugby World Cup final, but the Radio 4 team should know that
Wales
has an awful lot more going for it than rugby.
Top of the list is the stunning Welsh scenery and, for most people, it's right there on our doorstep, ready to explore and enjoy without costing a penny.
Today, we decided to stick close to home and walk the lower slopes of Mynydd Machen and the
Rhymney
Valley
. Leaving my ruck sack behind (Harri carried drinks and a few nibbles), I galloped up the first grassy slope and was soon waxing lyrically about the beauty of the undulating fields surrounded by their forested hills.
It's an area we walk regularly. We didn't stick rigidly to Harri's Walking World route,
though we did manage to include his recommended stop at the Cefn Maby Arms
. Amazingly for mid October, it was still warm enough to sit outside with our drinks. This is what hiking is really all about - you just can't beat a glass of beer or cider after a long, tiring walk.
The highlight of the route for me is always the magnificent Plas Machen farmhouse and the arable fields which surround it.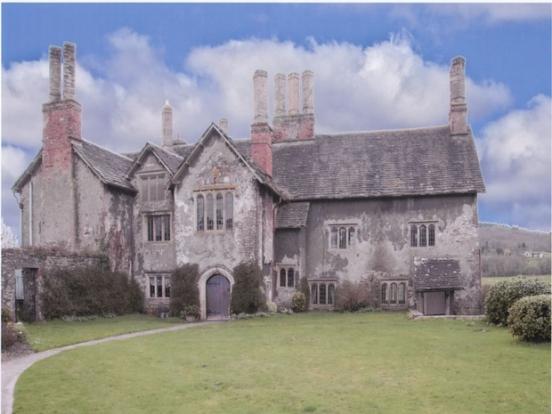 The magnificent Plas Machen farmhouse (copyright Newland, Rennie Wilkins)
If I'd been a location scout for Hammer Horror Films back in the fifties and sixties, this is the place I'd have brought Christopher Lee and Peter Cushing for filming. Even in bright sunshine, there's something tantilisingly haunting and spooky about the house, which is currently on the market for an undisclosed amount.
Plas Machen was once home to one of the innumerable branches of the Morgan family. Following the renovation and extension of Tredegar House
(which itself hosts the scariest Halloween event
I've ever attended) in the Restoration Period, Plas Machen was abandoned by the family and become a tenanted farmhouse.
I have no idea what the future holds for this beautiful and historic house, but I desperately hope its new owner won't destroy its faintly gothic facade and that Plas Machen will continue to enthrall (and slightly terrify) future generations of hikers.